November was (almost) all about NFTs, starting with NFT.NYC, where Chainlink Labs' Andy Boyan hosted an incredible panel of speakers from Chainlink-powered NFT projects, including artist Krystall Schott; Adam Ghahramani from Untamed Elephants; and Adam Bauer from Ether Cards, the platform behind LaMelo Ball's NFT collection. Boyan also recorded Chainlinked's first on-site interview with Polyient Labs' Nick Casares, who shared fascinating insights into how NFTs are shaping the metaverse.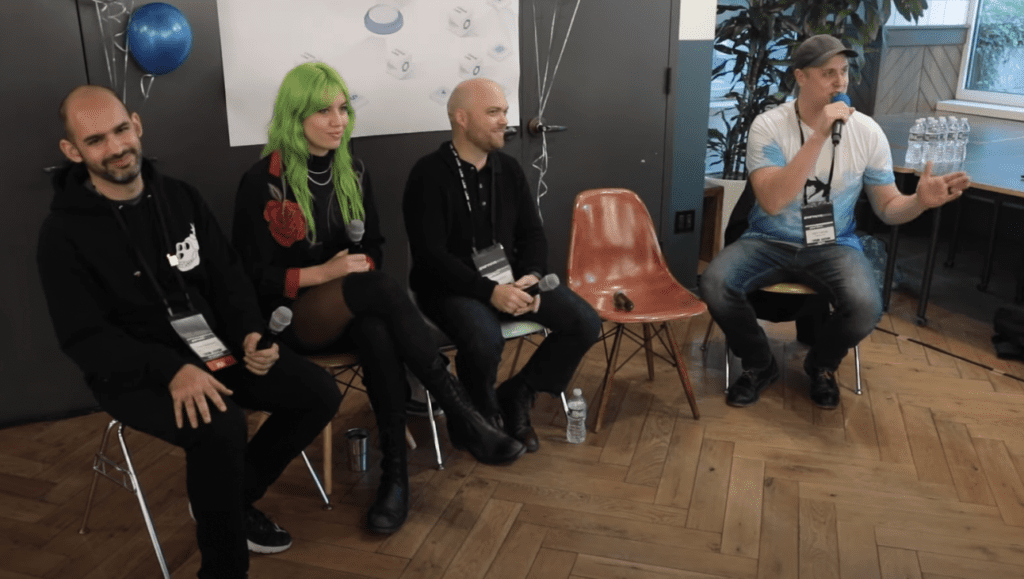 In other November NFT news, IP development group Pixel Vault, which uses Chainlink VRF to fairly and verifiably distribute reward NFTs, announced its PUNKS Comic's collaboration with Adidas. Decentralized lending protocol JPEG'd announced it's integrating a custom-built Chainlink price oracle that allows users to mint a decentralized stablecoin that is fully collateralized by their NFTs – effectively bridging the gap between NFTs and DeFi.
Chainlink's industry-leading decentralized oracle solution powers the vast majority of DeFi. At the beginning of November, Chainlink announced that its total value secured (TVS) surpassed $75 billion. By the end of the month, that number had climbed $7 billion to over $82 billion.
During Singapore FinTech Festival, Chainlink Co-founder Sergey Nazarov virtually joined Nasdaq's TradeTalks host Jill Malandrino to talk about how the expansion of Chainlink oracle networks enables more advanced hybrid smart contracts and cross-chain smart contracts, driving DeFi's mainstream adoption and, in turn, Chainlink's TVS.
"As DeFi has grown, so has the value we secure," Nazarov said.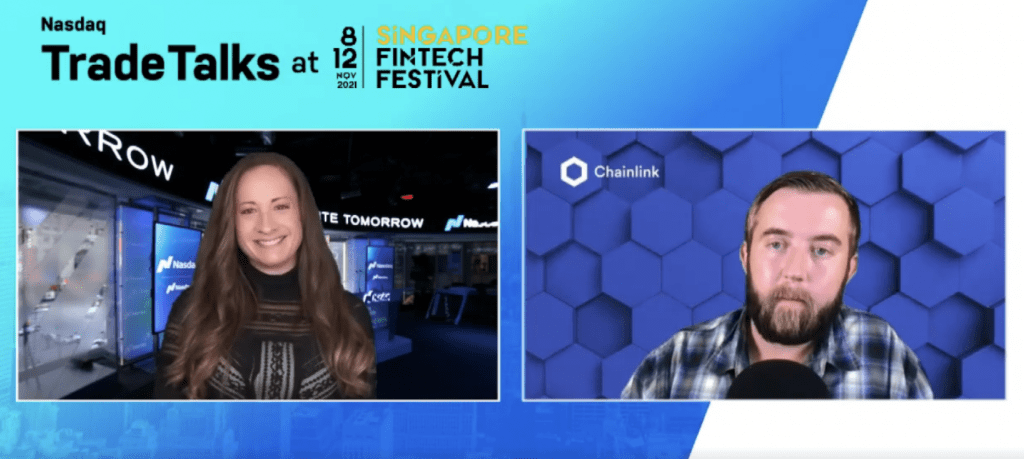 At the Solana Breakpoint event, Nazarov joined Solana Labs CEO Anatoly Yakovenko to talk about how Solana's forthcoming mainnet integration of Chainlink oracles will catalyze the next generation of hybrid smart contracts, fueling even more DeFi growth in 2022.
Yakovenko said that the synergy between Chainlink's oracles and Solana's blockchain will allow Web3 smart contract applications to be built with the same performance, throughput and cost that Web2 users are used to. "That is going to end up being a seismic shift from Web2 to Web3," he said.
Among 82 new additions to the Chainlink ecosystem in November, top Solana protocols – including premier yield aggregation and leveraged yield farming platform Tulip Protocol – are integrating Chainlink oracles to secure their growing TVLs. Solana's first and largest liquid staking provider, Marinade, announced it is sponsoring a Chainlink Price Feed for its liquid staking derivative of SOL, mSOL, expanding SOL's utility in the DeFi ecosystem. 
The Chainlink Fall 2021 Hackathon was Chainlink's largest hackathon to date, with over 8,000 registered participants. Winners of over $550,000 in prizes across a spectrum of categories will be announced during the closing ceremony on December 10th.
Stay tuned for Chainlink Today's coverage of the Fall 2021 Hackathon winners and check out the entire Chainlink ecosystem in one place.