On March 17, 2021, we launched Chainlink Today as a community news source featuring stories from the most forward-thinking teams in the Chainlink ecosystem who are building web3 from the ground up. Back then, the Chainlink Network secured over $15 billion in smart contract value. By the end of 2021, that number reached over $75 billion.
In 2021, the Chainlink ecosystem surpassed 1,000 integrations. In its first year, Chainlink Today published over 100 interviews with industry-shaping teams integrating Chainlink oracles and decentralized services across decentralized finance (DeFi), decentralized insurance, NFTs and blockchain-based gaming. Our interviews with the builders of Axie Infinity, a play-to-earn metaverse game that helped many of its players pull through the pandemic, were some of the most shared among our readers.
In its first year, Chainlink Today shared over 250 articles with more than 14,300 Twitter followers, who've retweeted us nearly 20,000 times. Some of our most viral articles feature complex thought leadership from industry pioneers like former Coinbase CTO and Chainlink Labs strategic advisor, Balaji Srinivasan.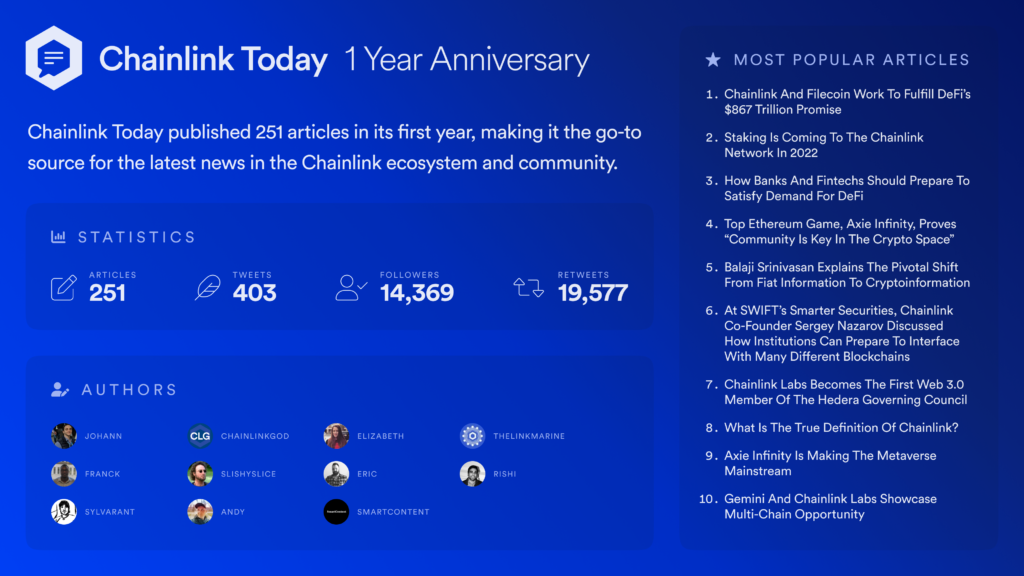 Among our contributors are prominent Chainlink community member ChainLinkGod, Chainlink Network data provider Rishi Singh, and Chainlink Community Advocate Eric Jaurena.
Our 2021 SmartCon #1 coverage includes in-depth interviews with panelists from a top-tier lineup, global Chainlink community leaders who hosted watch parties around the world, and groundbreaking announcements such as the introduction of Chainlink's Cross-Chain Interoperability Protocol.
Our interviews with AccuWeather and the Associated Press capture the historic significance of bringing essential weather and news data on-chain through the Chainlink Network. We also followed winners of Chainlink's spring and fall hackathons, including blockchain-powered weather derivatives marketplace Vulcan, which brought on Mark Cuban as a strategic advisor.
Chainlink Today was created by Chainlink Ecosystem builder TheLinkMarine, who received a Chainlink Community Grant to launch a one-stop shop for all Chainlink-related news.
"I'm incredibly proud of the work that everyone at Chainlink Today has produced, and we're really happy to be the go-to news source for all things Chainlink," said TheLinkMarine.
"The outlet has amassed an impressive following, with articles shared by high-profile figures like Dez Bryant, LaMelo Ball, and Balaji Srinivasan, as well as blockchain builders like Fantom Foundation and Avalanche. I'm excited to see the news we'll cover in 2022 and beyond."
At Chainlink Today, we want to extend our sincerest gratitude to everyone who has read and shared the content we work hard to produce every day. Let's keep building the future together.
WAGMI
If you have a story idea you'd like us to consider, please carefully review the Chainlink Today Content Submission Guidelines. We're excited to hear from you.