Chainlink wrapped up an incredible August with yesterday's announcement that Swift, the world's biggest provider of secure financial messaging services, successfully completed its proof of concept demonstrating how global financial institutions can transact with multiple blockchains using Swift's private key infrastructure (PKI) and Chainlink Cross-Chain Interoperability Protocol (CCIP).
Over a dozen top financial institutions collaborated with Swift to develop how entities interact with a variety of public and private blockchains through one simple CCIP integration. The results indicate more than 11,500 banks are now ready to be blockchain-enabled using their existing backend infrastructure – a vital step towards future-proofing traditional finance and scaling the tokenized asset space.
"When combining Swift and CCIP, we were able to show that this new level of interoperability across various blockchains is now possible with minimal resources from even the largest banks and market infrastructures," said Chainlink co-founder Sergey Nazarov.
At a Chainlink meetup in Singapore, Nazarov gave a presentation on how CCIP could facilitate the convergence of DeFi and TradFi into a superior alternative financial system based on an internet of contracts.
"If we can accelerate that, two things happen: the first thing that happens is the crypto industry grows and the second thing that happens is that the distinction between the bank industry and the crypto industry disappears and it just becomes the new global financial system," he said.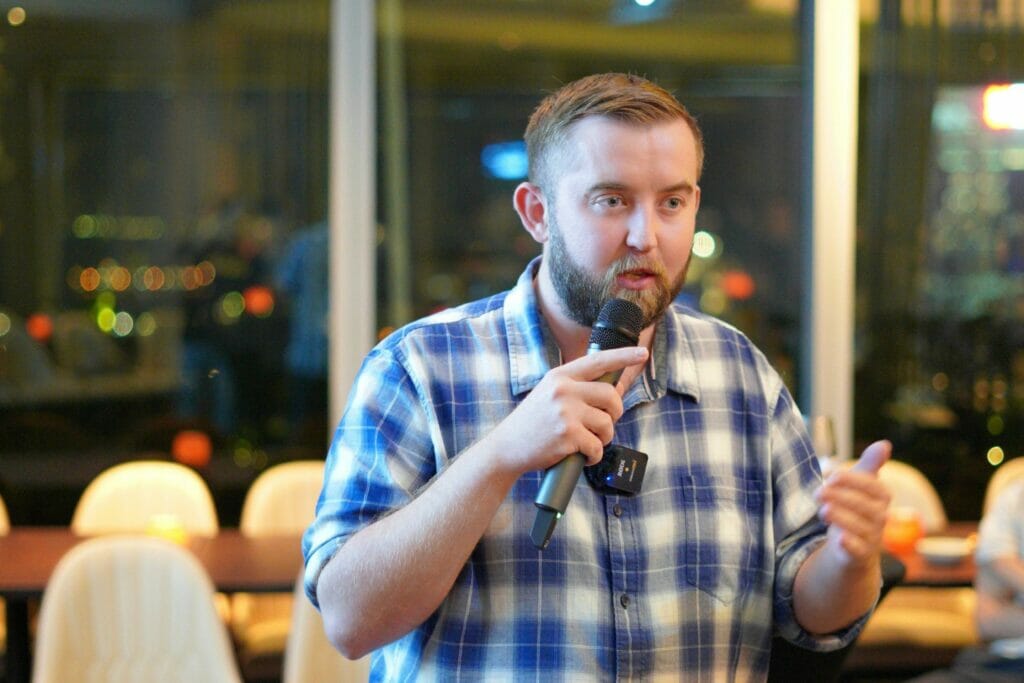 Web3 community builder and management framework Galaxis, which has helped launch high-profile Chainlink-powered web3 projects like Val Kilmer's GOD Panel NFTs, announced it's integrating CCIP on Ethereum and Polygon to create cross-chain digital membership cards that unlock token-gated community spaces.
Galaxis CEO Andras Kristof said that participating in Chainlink BUILD has allowed Galaxis to deepen its integration of critical new Chainlink services like CCIP. "We're excited to integrate the highly secure Chainlink CCIP to help enable cross-chain token-gated community spaces using Galaxis," he said.
The Chainlink BUILD program, which fosters promising early-stage startups in Chainlink's ecosystem, continues to expand and evolve. In August, Chainlink Labs announced its collaboration with GitHub to provide eligible BUILD projects with special access to key software development and educational tools along with technical support through GitHub for Startups.
"Both Chainlink Labs and GitHub provide developers with secure, scalable, and cutting-edge technologies that enable the creation of highly robust applications, and together we will help developers build next-gen solutions," said Garrett Wood, Senior Manager, Startup Programs at GitHub.
Among August additions to BUILD is zk-rollup SDK Airchains, which joined BUILD to accelerate adoption of its modular rollup solution. BUILD project Blueberry also integrated Chainlink Price Feeds on Ethereum to help secure its new Bloom protocol designed to bring yields bound to U.S. Treasury Bills to the DeFi economy.
The Chainlink SCALE program continued to grow in August, as well. Scroll announced it joined SCALE to accelerate adoption of its native zkEVM Ethereum scaling solution designed to support feature-rich dApps with enhanced scalability, privacy, and cost-efficiency.
Developer-friendly L2 Base, which joined SCALE earlier this year, announced its mainnet integration of Chainlink Price Feeds, unlocking developers' ability to build externally connected DeFi applications such as decentralized lending and borrowing protocols as well as derivatives and futures markets.
Johann Eid, Chief Business Officer at Chainlink Labs, said Chainlink Price Feeds on Base pave the way for next-generation DeFi applications capable of expanding the web3 industry as a whole:
"The security, reliability, and accuracy guarantees that Chainlink's Sybil-resistant oracle networks provide will enable developers to push the frontier of what's possible when a fast layer-2 blockchain meets industry-leading oracle infrastructure."
View the entire Chainlink ecosystem in one place.