Chainlink kicked off an impressive October at SmartCon 2023 in Barcelona, Spain, where more than 100 leading blockchain researchers, academics, and founders gathered to present groundbreaking thought leadership and technological advancements. During his opening keynote, Chainlink Labs Chief Product Officer Kemal El Moujahid announced several exciting product updates including the launch of Chainlink Data Streams on Arbitrum mainnet.
Chainlink Data Streams is a pull-based oracle solution that allows dApps to consume data more cost-effectively and at lower latencies while reducing the risk of frontrunning and MEV. Combined with Chainlink Automation, Data Streams can power ultra-fast, user-friendly DeFi derivatives products and exchanges, such as GMX – the largest decentralized perpetual exchange on Arbitrum and Avalanche – which is integrating Data Streams to power GMX V2.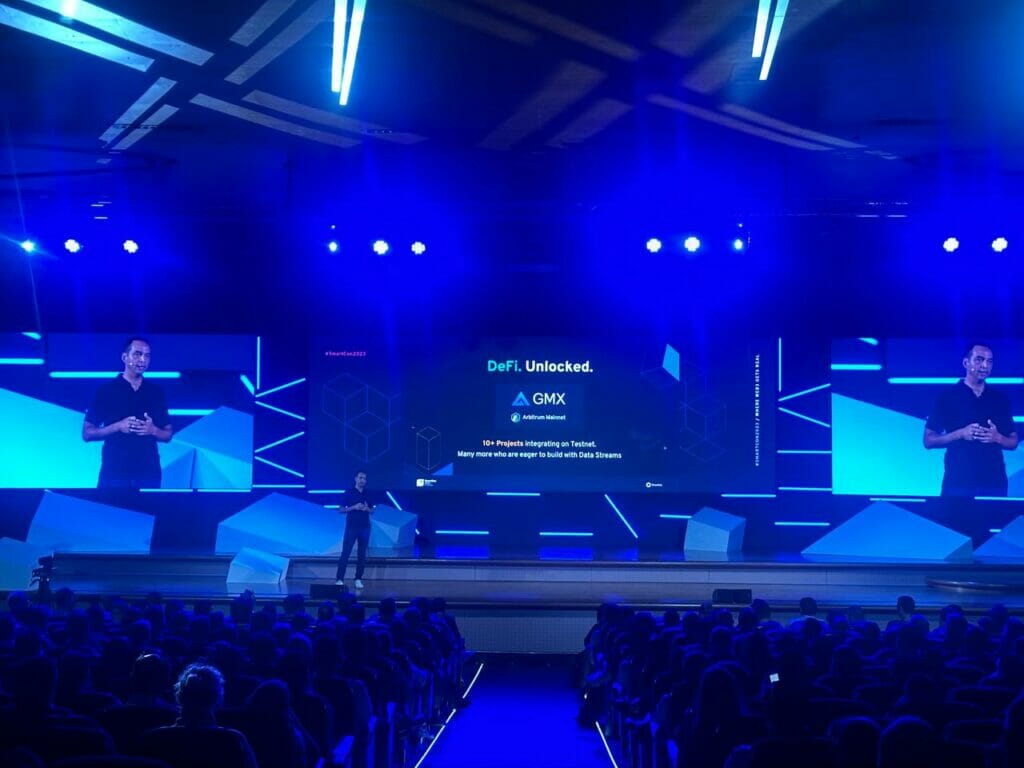 In an interview with Nasdaq TradeTalks host Jill Malandrino, Chainlink Labs Chief Business Officer Johann Eid said Data Streams allows DeFi derivatives to offer superior security and verifiability with speed that rivals centralized finance.
"With a lot of the derivative exchanges right now, the volume happens on CeFi systems, systems which are centralized by nature and that can be cheated," he said. "We want people to be using verifiable decentralized systems and, through Data Streams, you can now have DeFi be extremely performant."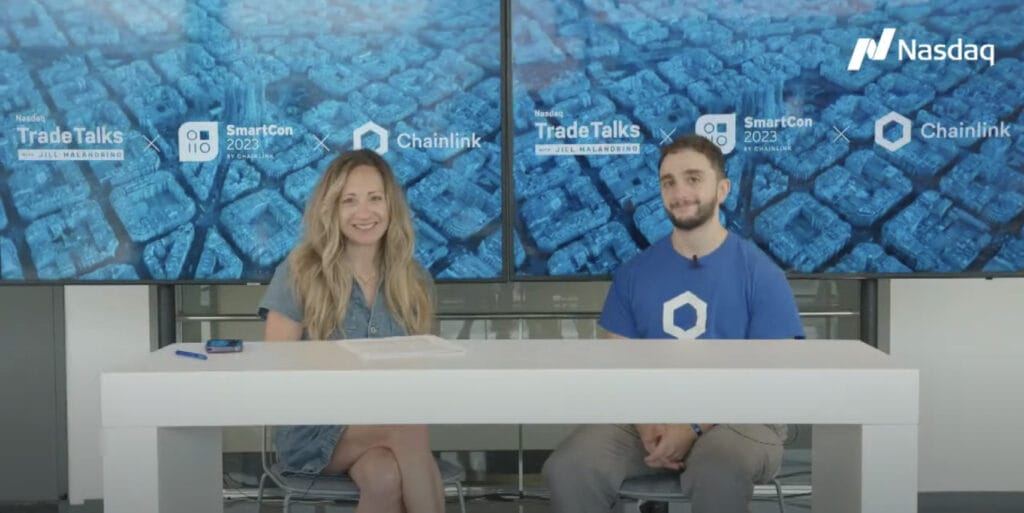 During a rousing SmartCon speech, Chainlink co-founder Sergey Nazarov described Chainlink's Cross-Chain Interoperability Protocol (CCIP) as "the final piece of the puzzle" needed to build a Chainlink-powered verifiable web. By allowing banks to connect their legacy infrastructure to private and public blockchains, he said CCIP will facilitate "the world's largest global liquidity layer" for buying and selling tokenized real-world assets that function as a golden record.
Former Google CEO, Chairman at Steel Perlot, and strategic advisor to Chainlink Labs, Eric Schmidt, underscored the need for a Chainlink-powered verifiable web in the age of AI during a fireside chat with Nazarov at SmartCon.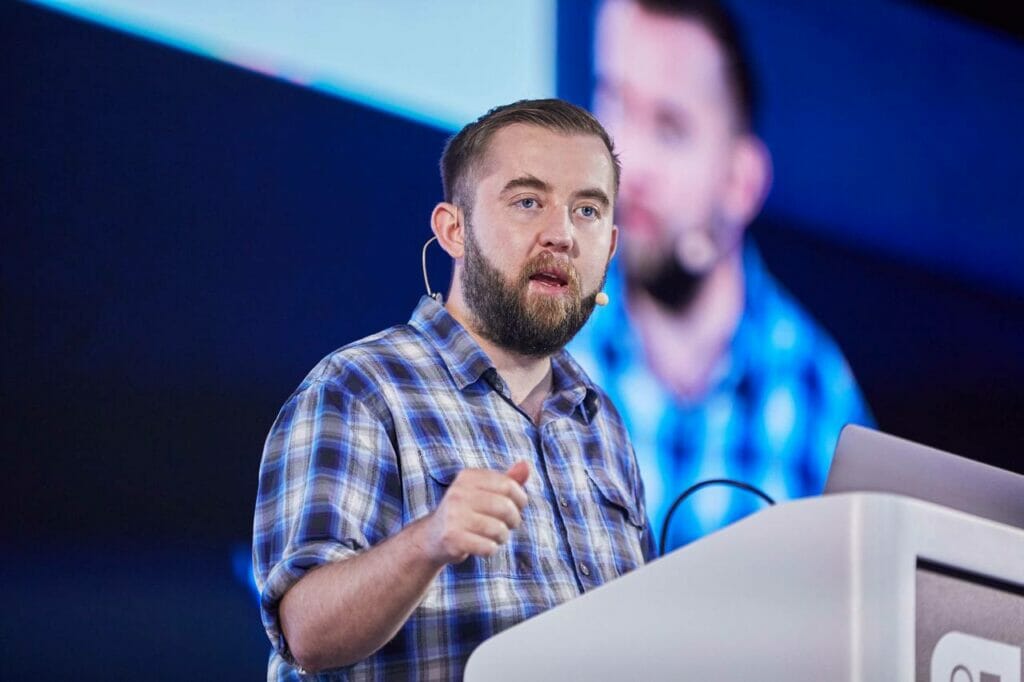 Schmidt described the arrival of AI and LLMs (large language models) as "a whole new phase" for computer science and the world at large.
"This technology is diffusing so quickly and this is why your notion of a verifiable web – you're underselling how valuable it is," he told Nazarov.
Because Schmidt views blockchain as an "accurate defender of truth" in the war against misinformation, he described the relationship between blockchain-based cryptographic truth and LLMs that inherently lack provable truth as "a natural marriage."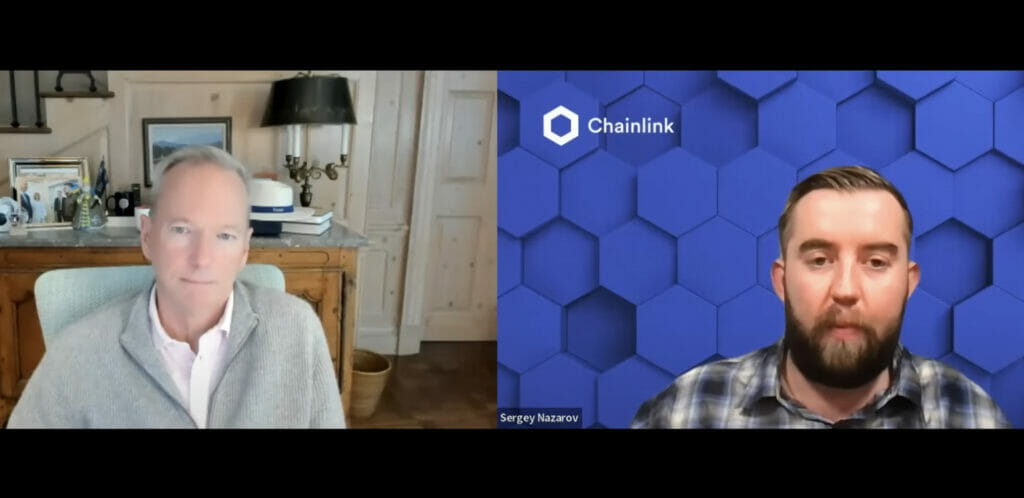 CCIP continues to make waves in the Chainlink ecosystem with the announcement that Vodafone, a leading telecommunications company in Europe and Africa, successfully demonstrated how trading companies could avoid unnecessary cargo delays by utilizing CCIP to transfer crucial trade documents between multiple parties across several different blockchains.
CEO of Vodafone Digital Asset Broker (DAB), Jorge Bento, said CCIP can solve a major pain point for the fragmented global trade ecosystem.
"Vodafone DAB and Chainlink are showing how their platforms can be combined to cut through this sea of incompatibility by bridging traditional markets with advanced decentralised platforms," he said. "This ensures seamless and secure exchanges of data and services across the global trade ecosystem, estimated to be worth over $30 trillion last year."
Among 105 new Chainlink integrations in October is Linea's integration of Chainlink Data Feeds to unlock feature-rich dApps that advance DeFi, onchain gaming, and tokenized real-world assets. In an official statement, Simon Morris, Chief Strategy Officer at Consensys (the creator of Linea), said Chainlink Data Feeds will allow developers to better leverage the intrinsic scalability of Linea's zk-rollup solution to power the next generation of Ethereum-based dApps.
"It's abundantly clear that secure and reliable access to offchain data is key to unlocking a rich application ecosystem for any blockchain, which is why we chose to integrate Chainlink Data Feeds," he said. "Chainlink Data Feeds are the most adopted data solution in web3, and we're excited to see what Linea developers can build with seamless access to secure and accurate offchain data."
View the entire Chainlink ecosystem in one place.