On the first day of SmartCon 2023, Chainlink co-founder Sergey Nazarov delivered a rousing keynote highlighting Chainlink as the platform for building a global internet of contracts, where unverifiable misinformation is supplanted by verifiable cryptographic truth that enables transparent, user-controlled, manipulation-resistant systems in developed and developing economies throughout the world.
"Everybody is now understanding that the entities and the systems meant to give you information are not going to give you information," he said. "They're going to try to manipulate you towards some set of goals."
He explained the goal of the Chainlink Network is to create "certain cryptographically proven ground truths" that cannot be disputed, even in the age of AI.
"If we don't have some basic ground truths on which to stand, we will not only not be able to communicate with each other to make decisions; we will be able to be convinced by AIs of really wacky stuff."
As the industry-leading decentralized oracle network and web3 services platform, Chainlink has already enabled more than $8.6 trillion in transaction value throughout the DeFi economy.
"Right now, the Chainlink Network has provided the most cryptographic truth in history," Nazarov said, underscoring the fundamental role Chainlink's continuously expanding decentralized price and data feeds have played in the creation and evolution of DeFi.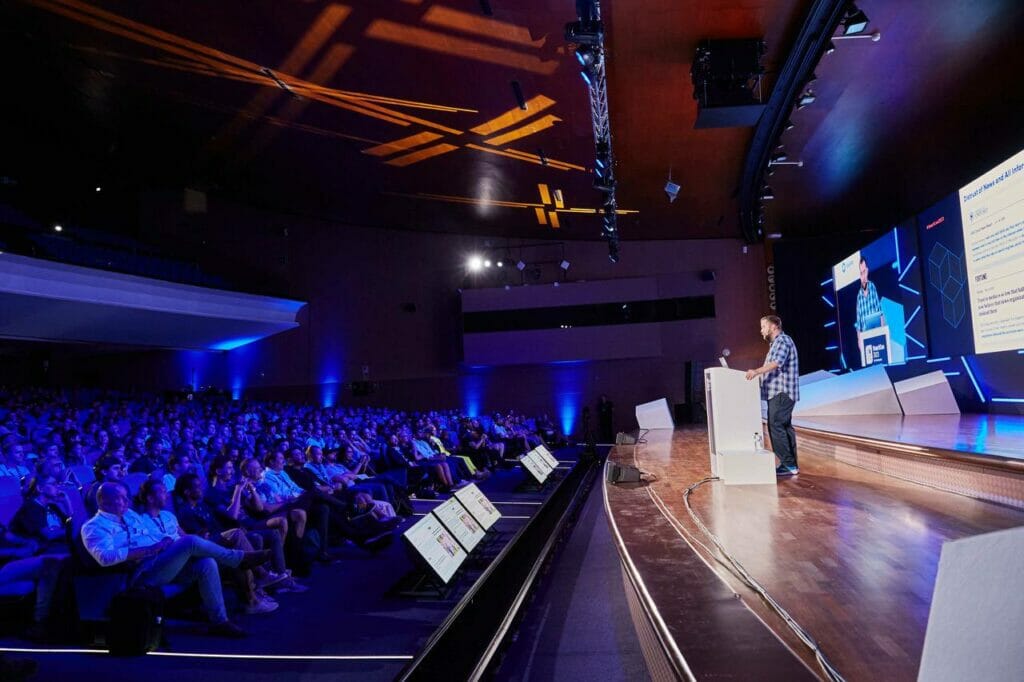 However, verifiable data isn't enough to build an internet of contracts. "You also need verifiable computation and connectivity," he explained.
Nazarov described Chainlink's Cross-Chain Interoperability Protocol (CCIP) as "the final piece of the puzzle" that makes Chainlink a comprehensive platform for building verifiable cross-chain applications and connecting them to hundreds of trillions of dollars in capital markets.
"You get all of the applications that are able to move quickly, and innovate, and build exciting new versions of the world, and then you connect them with all the money that can use them, and I think you get a world where there's a lot of applications with a lot of usage over CCIP," he said.
Essentially, Nazarov believes CCIP will facilitate "the world's largest global liquidity layer" by allowing banks to seamlessly connect their legacy infrastructure with other private bank chains as well as public DeFi applications in order to create, buy, and sell tokenized real-world assets.
"That will be what success looks like for banks," he said. "Once they realize that there is money to be made through the roads that we're creating, they will get on the roads."
One of CCIP's biggest innovations is the ability to transfer digital assets as well as information, such as price data or proof of reserves, cross-chain. This, Nazarov explained, allows digital assets to function as a golden record.
"You need the superior tokenized asset to remain superior because it's connected back to the real world regardless of what chain it happens to land on," he said.
Recalling his recent experience at Sibos, where he delivered a keynote speech on the future of digital assets in front of a packed house, Nazarov said banks are eagerly assembling dedicated digital assets teams to prepare for a CCIP-enabled future.
"This is a completely new stage that is not the same movie as before," he told the audience at SmartCon. After a round of enthusiastic applause, he added, "I can tell the community likes this idea."
Watch Sergey Nazarov's full keynote speech at SmartCon 2023.