SmartCon #1 was a momentous success with three days of expert panelists and landmark announcements from Chainlink Labs, including the launch of decentralized smart contract automation service Chainlink Keepers on mainnet and the release of Chainlink's new Cross-Chain Interoperability Protocol (CCIP) unlocking a simple framework for developers to build cross-chain applications.
On SmartCon Day 2, Chainlink Co-founder Sergey Nazarov met with Google spokesperson and developer advocate Allen Day about connecting Google Cloud's weather and climate datasets to smart contracts with Chainlink and, more broadly, the vast opportunities for developers in nearly every industry to build advanced hybrid blockchain/cloud applications using Chainlink oracles and Google Cloud's expanding datasets and capabilities.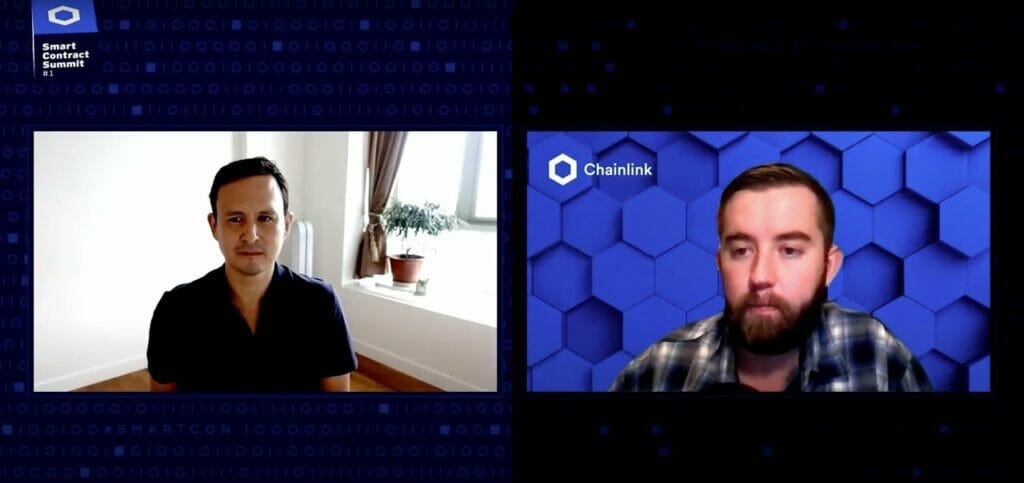 Day described the years-long collaboration between Chainlink and Google Cloud Platform (GCP) as an endeavor to make GCP's capabilities immediately accessible to many different smart contracts on many different chains, taking the world of hybrid smart contracts "into a new realm of capabilities."
This realm is the result of highly transparent, trust-minimized blockchains being able to access GCP's datasets and capabilities like computation, machine learning, image processing and geolocation through Chainlink oracles. Nazarov said that being able to access GCP's data and services via Chainlink has been "the missing piece of the puzzle" developers need to build more advanced decentralized applications with greater utility across various sectors like DeFi, insurance, gaming and beyond.
Day collaborated with engineers at Chainlink Labs to build an adapter that enables smart contracts to query the NOAA GSOD weather data via BigQuery (GCP's enterprise cloud data warehouse) through Chainlink's secure oracle metalayer, with the goal of enabling more globally accessible decentralized insurance products like crop insurance while amplifying the impact of sustainable and regenerative agriculture.
Nazarov said this functionality will be "immediately useful" to various insurtechs in the Chainlink ecosystem, such as Arbol, whose CEO, Sid Jha, spoke about the critical need for decentralized insurance and climate data at SmartCon.
"With the help of smart contracts that are an alternative system of contracts combined with really high-quality data from GCP, we can actually start to realize the dream of decentralized crop insurance," Nazarov said. "Bringing insurance products to jurisdictions where they are not available simply because of a lack of infrastructure – this is truly empowering and lets us showcase the power of these decentralized systems and deploy it at global scale," Day agreed.
Speaking from his background as a biologist and his interest in agriculture, Day highlighted how reliable weather data makes it easier to engineer systems that work toward the world's sustainability goals by reducing volatility.
Day said there are many undiscovered use cases for hybrid blockchain/cloud applications that utilize GCP's resources like GDELT, which employs deep learning algorithms to create a real-time computable record of world news from over 100 different languages. "I imagine that we're going to start seeing services that integrate a number of different datasets and different modalities like news and weather data and existing price data feeds to build all kinds of composite markets that we can't even imagine what they are right now," Day said.
"I don't think people realize the scope of what it means to make all of GCP's datasets, all of GCP's computational capabilities and the combination of all that available to smart contracts," Nazarov said. In his view, the availability of GCP's data and computation through Chainlink's secure interface "just kind of explodes the universe of what developers can build" beyond the blockchain industry's foundation of tokenization and governance.
Day noted how quickly Chainlink is laying the groundwork for DeFi and forecasted more advanced, industry-changing hybrid blockchain/cloud applications just around the corner.  "Chainlink is definitely in a very pivotal position in this whole emerging ecosystem, being the bridge component between clouds and these various blockchains." 
Missed SmartCon #1? Find the complete stream of each day below.