Sid Jha is Founder and CEO of Arbol Inc., a blockchain-based parametric insurance platform, and a founding partner of dClimate, the first decentralized climate and weather data marketplace connecting researchers and scientists who publish climate data with enterprises, governments and insurance platforms (like Arbol) that rely on this data.
Sid will join over 200 panelists representing top projects in revolutionary industries like DeFi and decentralized insurance at Chainlink's SmartCon #1 virtual event, August 5-7 2021. Chainlink Today caught up with Sid for a short Q&A about what's on the horizon for Arbol and dClimate and the insights he'll be sharing at SmartCon.
CT: How has the Covid-19 pandemic and recent extreme weather events accelerated the need for blockchain-based parametric insurance and widely accessible, immutable climate data?
SJ: In 2020, the world had to deal simultaneously with a once-in-a-generation global health crisis and a seemingly endless stream of natural catastrophes. Businesses globally suffered more than $268 billion in damages as the result of over 400 major natural disasters. Only $97 billion of these losses were covered by insurance, leaving a sizable global protection gap of 64%.
Covid-19 exposed many of the issues facing the legacy insurance industry. Many traditional insurers invoked exception clauses to avoid payouts for Covid-19-related business interruption, leaving large and small businesses dealing with the financial burden of the pandemic without much-needed settlements to cover unexpected, prolonged losses.
Businesses and financial institutions need access to transparent, data-driven insurance products to build their businesses unencumbered by mounting eternal climate risks. Parametric insurance products built on a foundation of immutable climate data are necessary to provide insurance more broadly in underserved and underinsured regions where traditional programs' "boots on the ground" approach is difficult to deploy.
CT: How can Arbol and dClimate change the day-to-day lives of people living in emerging economies? What impact does this technology have on the developed world?
SJ: Arbol's mission is to expand access to parametric weather insurance products that are user-friendly, transparent, and can be deployed globally. Having an insurance policy that allows you to decide how much you want to be paid when a prespecified event occurs, and that settles automatically when that predetermined event happens, fundamentally changes the way farmers and businesses can operate and grow, especially in regions that are historically underserved by traditional insurers.
The foundation of these contracts is immutable, open, and decentralized climate data, which adds a layer of transparency to the insurance process. Having contracts settled using data that is tamper-proof and publicly verifiable using an automated smart contract creates an efficient process that benefits both parties and gives the policyholder much-needed peace of mind.
Arbol currently offers over 25 weather risk products available across several industries, and we are continuing to build new programs and products that can be deployed easily anywhere in the world.
dClimate will launch later this summer/early this fall with a base layer of more than 1,000 terabytes of climate data, forecasts, and models already available through our REST API, which is free for data consumers. Data is just the base layer here. The products that can be built on top of this base layer (insurance products, carbon footprint estimation tools, hurricane models, etc.) will be truly transformative.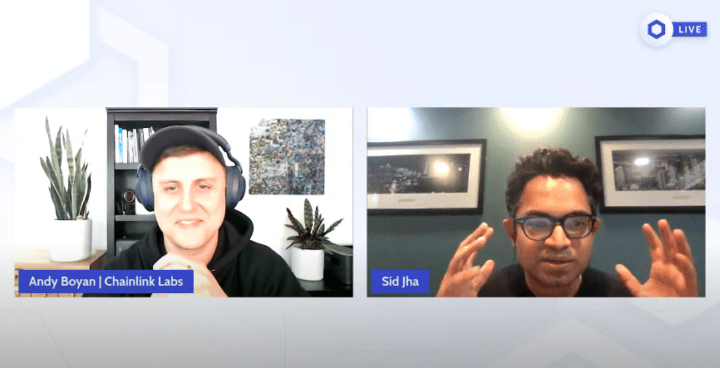 CT: How does it feel to be part of the largest ecosystem powering decentralized insurance? How is Chainlink laying the foundation for your industry?
SJ: Using smart contracts as a solution to make insurance and weather risk products more efficient and transparent is a relatively new concept. Having Chainlink serve as a trusted oracle solution to verify that the qualifying weather event occurred on-chain is critical, especially as we at Arbol work to build more products and programs that are decentralized and automated using smart contracts and oracles.
Chainlink is a critical part of dClimate's infrastructure, facilitating on-chain data validation and supporting the network's governance layer. Chainlink is a perfect and ideal partner to facilitate these functions for the marketplace. As dClimate and Arbol grow alongside each other, our need for trusted oracles will also grow. When large amounts of money flow through contracts, you need a trusted validator like Chainlink to ensure the reliability of the data underlying and supporting transactions.
CT: dClimate recently brought on Mark Cuban as an investor and strategic advisor. How can partnerships with high-profile investors and entrepreneurs like Mark accelerate the mainstream adoption of decentralized technology?
SJ: More investors and mainstream institutions are beginning to recognize how blockchain can positively disrupt every major industry from banking to insurance to ESG. Having mainstream investors like Mark use their platforms as a forum for educating others about how blockchain and smart contracts can power a new generation of world-changing products and strategies will be critical for driving the mainstream adoption of decentralized technology and applications.
We are privileged that Mark sees the vision of what we are building at dClimate, and we are proud that he joined our team as a strategic advisor and investor. He understands that data is just a base layer. What you can build on top of that data and how you can deploy that data is what is truly exciting.
CT: What can SmartCon attendees expect to learn from your panel discussion? What message are you hoping to hit home?
SJ: I plan to talk specifically about dClimate: why climate data is important and how it can be used, the power of smart contracts and oracles to enable groundbreaking adaptation strategies for fighting climate change, and the critical role that Chainlink plays, not just in the data validation infrastructure for dClimate, but in its DAO governance infrastructure as well.
When people think about weather data or forecasting, they often think about the app on their phone that tells them whether it's going to be rainy or sunny on any given day. At SmartCon, I plan to talk about how climate data is so much bigger than real-time weather forecasting, why it will be critical for powering the next generation of climate risk products, and why oracles and blockchain will be a crucial part of ensuring the integrity of this data and these climate solutions.
CT: What are you personally most excited to see at this year's SmartCon?
SJ: I'm excited to see and learn from other leading DeFi/blockchain projects and leaders in the space who are building revolutionary products and applications using oracles and smart contracts. SmartCon is not just an opportunity for us to introduce what we are building to a new audience, but a forum to learn about what others are building too. It is truly exciting to see how this industry has evolved and, needless to say, we are all very excited for the conference.
To learn more about SmartCon #1 and stay up-to-date on the latest announcements, visit the Smart Contract Summit website, follow Chainlink Labs and Chainlink Today on Twitter and check back for Chainlink Today's in-depth coverage leading up to and during the event.