SmartCon 2022 was a smashing success. Thousands attended the sold-out event, September 28-29 in New York City, while thousands more tuned in to the live stream and joined watch parties around the world. Over the course of two days, more than 100 founders, academics, and blockchain pioneers presented their thought leadership and participated in panel discussions about the most influential web3 trends and technology.
Chainlink co-founder Sergey Nazarov kicked off the event with a sweeping keynote featuring Chainlink services that "create an infrastructure and an environment for the world's value to transition into the blockchain format," including Chainlink BUILD, Fair Sequencing Services (FSS), and privacy-preserving oracle protocol, DECO.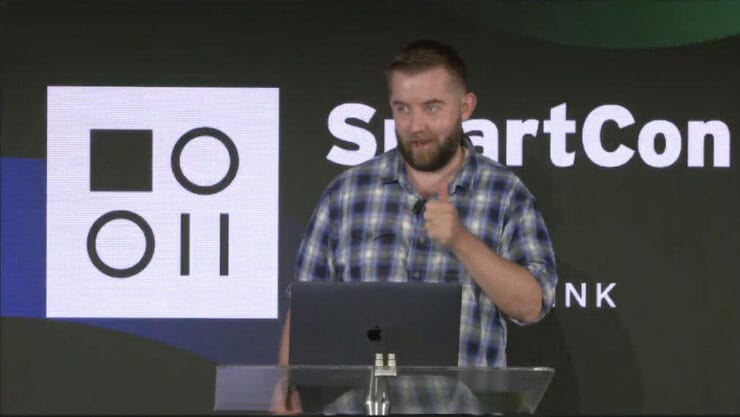 Nazarov highlighted Chainlink's position as the industry-standard oracle network and introduced Chainlink's new metric, Transaction Value Enabled (TVE), projected to surpass $7 trillion by the end of 2022. He also marked the launch of Chainlink Economics 2.0 and announced that staking is on track to begin in December.
One of the event's most highly anticipated speakers was former Google CEO, Eric Schmidt, who became a strategic advisor to Chainlink Labs last year. During a fireside chat with Nazarov, Schmidt applied an important lesson from web2 to building a better web3.
"At the end of the day, the companies that won in web2 were better technology; they put more capital to work and they moved faster and they scaled faster," he said. "So I think that in web3, you're going to see the same dynamic of new things entering. And the winners – and I think this is absolutely true of Chainlink – they have better technology and it scales better."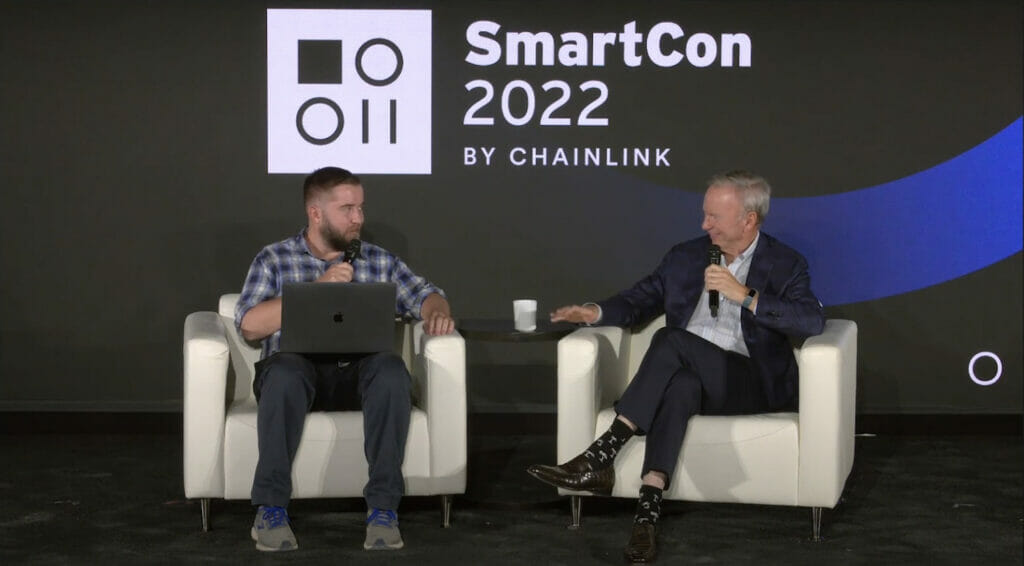 Schmidt helped take Google from startup to tech giant in a decade with the guiding philosophy, "We want a little piece of Google in everyone's computation." He applied the same outlook to Chainlink, telling the audience, "We want everyone here to have a piece of Chainlink in everything that you do."
The Chainlink ecosystem grew by 60 new product integrations during the month of September, including DeHealth's integration of Chainlink Price Feeds and Keepers as key technologies facilitating decentralized, user-owned medical data; Ojamu's integration of Chainlink Price Feeds to help brands transition to web3; and Blockpour's integration of Chainlink Price Feeds to help its users better navigate the multi-chain DeFi ecosystem.
The Chainlink Network also gained a new data provider with the announcement that Digital Asset Research (DAR) will deliver its institutional-grade data for 1,000 digital assets on-chain via Chainlink.
Throughout October, Chainlink Today will continue publishing the most inspirational moments from SmartCon 2022. Follow Chainlink Today on Twitter to stay up-to-date on the latest SmartCon content as well as news from the Chainlink community and ecosystem.
Watch the complete replays from SmartCon Day 1 and Day 2.
Check out the entire Chainlink ecosystem in one place.