What do you get when you cross an authentic Bored Ape with the time-honored T-Rex? 9,999 Metasaurs, or a "cultural phenomenon that was able to catch lightning in a bottle," according to Merlin Kauffman, the serial entrepreneur and founder of Soothe (the "Uber for massages") who revealed himself as the founder of the rapidly growing Metasaurs NFT project on yesterday's Chainlink Live.
Exceeding even the swift acceleration of Soothe, which grew from zero to 15,000 massage therapists in 73 cities around the world in just four years, Metasaurs is gaining traction at lightspeed. Its Discord community stretched from zero to nearly 200,000 members in less than two weeks – which was due course, in Kauffman's view.
"A day in the NFT space is like a week, a week is like a month, and a month is like a year," he told Chainlink Today.
Kauffman said he conceived the idea for Metasaurs on August 26, 2021 – the same day he bought his very first NFT from the exclusive Bored Ape Yacht Club (BAYC). In the NFT eons since August, Bored Ape #4588 evolved into the persona of "Dr. DMT," a meta scientist who mints unique NFTs by combining Bored Ape and digital T-Rex traits.
"People love dinosaurs and Bored Apes," Kauffman explained. "Now they love the combination of the two."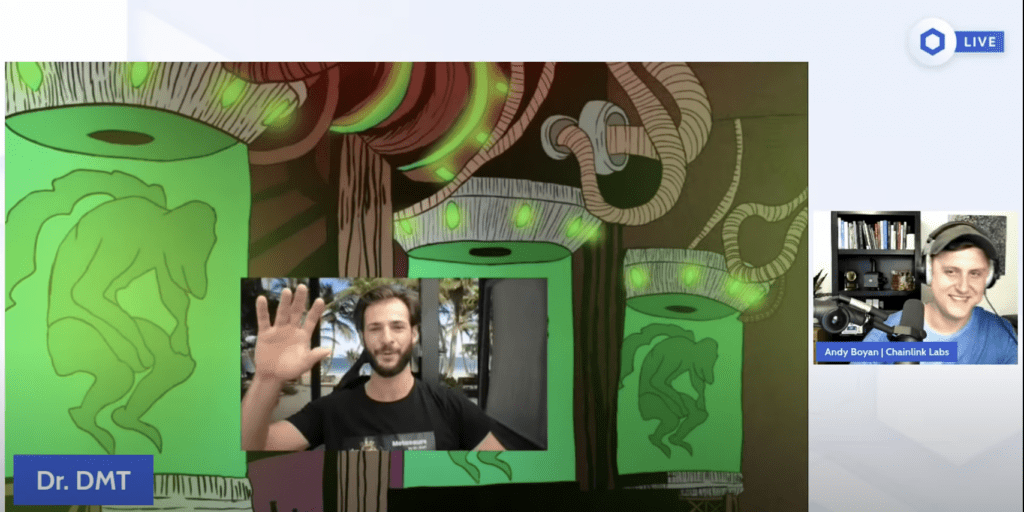 Ahead of its NFT mint, the project hired two artists from Discord in the community's first 11 days. Kauffman told Chainlink Live host Andy Boyan that Metasaurs will possess 300 unique traits and are artistically rendered to be the kind of collectible "people want to put on their walls and walk around the metaverse with."
As a next-gen expansion of the BAYC storyline, Dr. DMT's Metasaurs have already captured the imagination of NFT enthusiasts around the world – including legendary NFT holders from the Bored Ape, CyberKongz, and CryptoPunks communities, as well as a large contingent of first-time NFT collectors.
"This combination is really special because never before has there been an NFT community that has facilitated combining groups of different collectors in a consolidated Discord," Kauffman said.
"Our theory is that the most adventurous and progressive NFT holders of blue chip collections have decided to join the Metasaurs experiment because they are long-term NFT maximalists, not just Bored Ape or CyberKongz or CryptoPunks maximalists – and those are exactly the collectors we want."
The Metasaurs mint will run from October 13th-14th, 2021. During his appearance on Chainlink Live, Kauffman announced that Metasaurs is integrating Chainlink VRF as a secure, provably fair means to randomly select one winner of a 2021 Ford Raptor Truck (customized with Metasaurs art) from a pool of Metasaurs holders and entrants from the general public.
Kauffman called the integration a "crucial moment" in elevating expectations for the giveaway's accountability.
"Integrating Chainlink VRF into the Metasaurs 2021 Ford Raptor Truck Giveaway is very important to have an on-chain provable winner. We will be using VRF for future giveaways and other events that require verifiable results."
Beyond VRF, Kauffman said the new gold standard for NFT projects aimed at eliminating "bad actors, rug pulls, and FUD" is non-anonymous founders. His belief that "communities require transparency to thrive" inspired his decision to reveal Dr. DMT's human identity on Chainlink Live.
"Revealing myself on Chainlink Live was exciting, fun, and absolutely the right decision. Andy was a great host, and he had organically been following the Metasaurs project before we ever met for the AMA. I think we both had a lot of fun interacting with the Metasaurs community live."
Kauffman told Chainlink Today that he's received "overwhelmingly positive" feedback from the Metasaurs community since his reveal and he hopes to inspire a movement among other NFT founders.
"It is surprising to me that few other founders of NFT projects have revealed their identities, and we are really proud to lead this charge for the entire NFT industry. This is the way it should be."
To learn more about Metasaurs, visit their website, Twitter and Discord.
Watch Merlin Kauffman's full reveal on Chainlink Live.