Chainlink Labs recently hosted its first Clubhouse discussion, "How To Build A Career In Crypto," moderated by eight team members ranging from original 2017 to new 2021 hires. Listeners tuned in to hear what it's like to work for the leading decentralized oracle network, how different team members got their start in blockchain and which roles Chainlink Labs is actively seeking to fill.
For those who weren't able to join, here's a quick recap of the discussion's main takeaways:
Persistence is key.
Chainlink Labs writer and researcher Andy Boyan said, "If we only hired from the blockchain industry, we'd have a major problem." Because the blockchain industry is relatively nascent and growing exponentially, Chainlink Labs is recruiting talented team members from all walks of life to fill both technical and nontechnical roles.
All team members agreed that getting involved in the community is an excellent way for potential hires to establish the value they bring to the table. This could take the shape of writing blog posts, generating community discussions on social media or reaching out directly to team members about your unique skills and experiences.
Team members described their journeys to working at Chainlink Labs as "stories of persistence," which included regularly participating in the larger conversation about the Chainlink network, contributing their thought leadership ideas and marketing their talents. 
Community is the go-to recruitment spot.
Community Lead Keenan Olsen said, "No matter where you are in the world, if you put in effort, you will get noticed." Chainlink Labs has already hired directly from the community, which is the first place the team goes when looking to fill new roles. A great way to become involved in the community is to get familiar with chat apps – Slack, Discord, Telegram – that the community uses to communicate every day.
Director of Talent, Dustin Goodwin, said joining a hackathon is another meaningful way to boost your community involvement. "It's a great opportunity, whether you're an experienced developer or you just want to learn," he said. And you don't have to be a developer to get involved – artists and writers are also invaluable contributors at these events.
Versatility is the name of the game.
Director of Community Rory Piant said versatility is a huge asset. No matter which role you're filling at Chainlink Labs, you'll likely be "doing things you've never done before," learning new skill sets and refining existing abilities to meet the demands of a quickly evolving industry. Account Executive Michael Zacharski said that every workday is different when you're on the "bleeding edge of tech."
You don't need to be technical.
You don't have to be technical to land a job at Chainlink Labs, however. Current openings range from positions that require no formal blockchain experience to roles that demand detailed understanding of niche technical intricacies. "We could use a little bit of everything," the team agreed. Technical writers, DevOps engineers, product managers, community managers and technical recruiters are among the many open roles listed on Chainlink Labs' career page. Team members echoed, "If you don't see a role open, message us."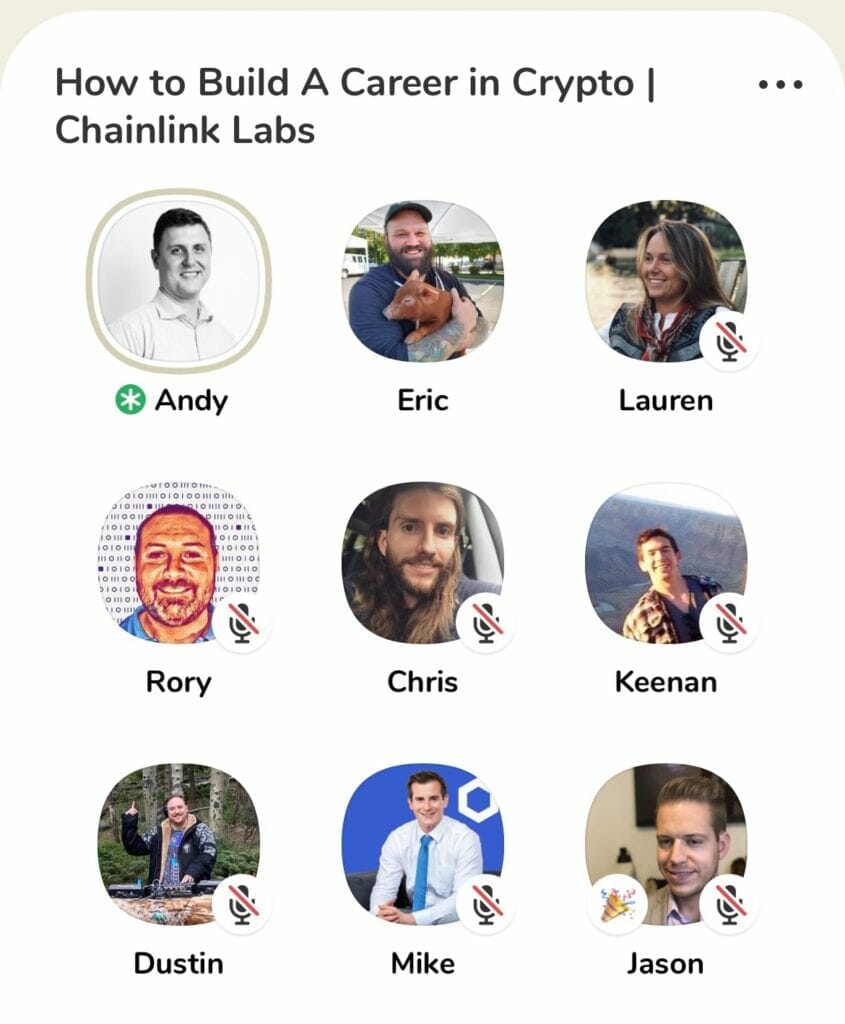 The Clubhouse chat generated such a robust Q&A that plans for a follow-up conversation are already in the works. Check out chainlinklabs.com and follow Chainlink Labs on Twitter to learn more about open roles and stay ahead of future Clubhouse discussions.