At Coindesk's Consensus 2022 festival in Austin, Texas, former Dallas Cowboys wide receiver Dez Bryant, known for his signature "throwing up the X," joined Chainlink Labs' Lauren Halstead for a fireside chat about how Bryant's Personal Corner digital branding platform uses Chainlink oracles to create NFTs that directly connect athletes to their most loyal fans. 
Bryant, a passionate gamer, tech enthusiast, and early member of the Bored Ape Yacht Club, founded Personal Corner in 2016, when he noticed other retired professional athletes were struggling to take ownership of the next phase of their careers.
"Throwing up the X was successful for me, but what I realized is that a lot of athletes, not just from football but all sports, didn't see the potential and the power of building your own brand," he told Halstead. 
Earlier this year, Personal Corner announced its integration of Chainlink Sports Data Feeds to power dynamic NFTs that reflect NFL stars' stats such as touchdowns, interceptions, and tackles and commemorate career milestones by giving holders access to exclusive rewards like personal memorabilia and in-person events.
Bryant said he believes NFTs are "the perfect solution" to help athletes build their own brands.
"NFTs give athletes the power to connect directly to their greatest fans and I think that's what I love the most," he said. "It's extremely organic and transparent."
Instead of going into a pro shop to buy generic merch from a third party, Bryant said NFTs give any fan the opportunity to receive something truly unique directly from the player.
Personal Corner's Chainlink-powered Series 1 includes dynamic NFTs for NFL stars such as Maxx Crosby, Von Miller, Marquise "Hollywood" Brown, and current Cowboys cornerback Trevon Diggs, who appeared with Bryant on Chainlink Live earlier this year to discuss NFTs as a gateway to form genuine friendships with his most supportive fans.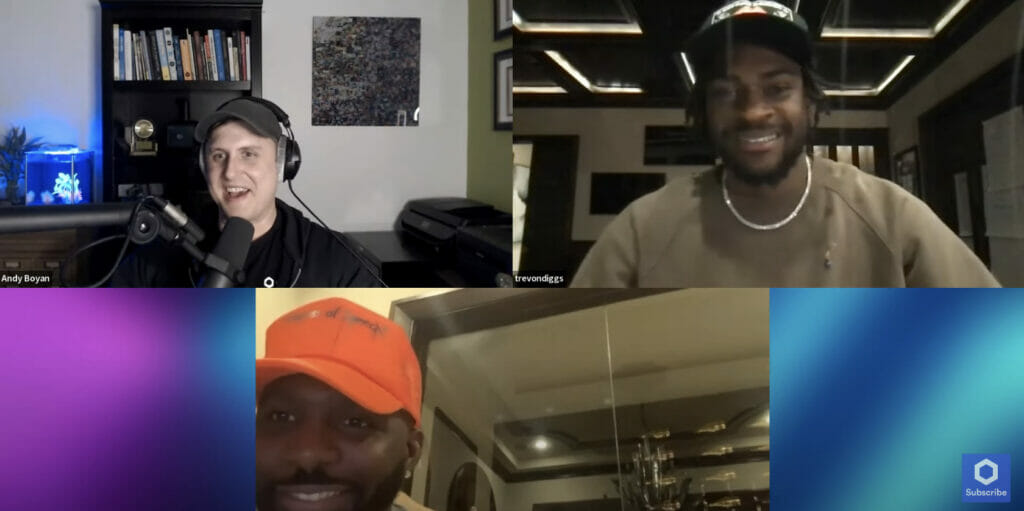 "You get to have a piece of me," Diggs said of the opportunity for fans who own his NFTs to win some of his most cherished career artifacts. "Because I'm sharing something that means so much to me with you."
Bryant told Halstead that one of the most exciting facets of NFTs is the ability to reinvent the relationship between athletes and brands.
"What I love about it is ownership – it gives the athlete the power, the chance to own their name, image, and likeness, and to be able to collab with different brands instead of being endorsed by brands," he explained.
Bryant said decentralized services like Chainlink VRF (Verifiable Random Function) allow Personal Corner to host cryptographically verifiable random giveaways for a chance to attend insider events – like the time Bryant bought a Cowboys suite for members of the community to hang out and watch the game with him. 
For Bryant, the future of NFTs is near-limitless for athletes and fans of all sports. "I think what we are building has never been done before and NFTs and Chainlink give us the opportunity to create something special," he said. "I'm extremely excited."
To learn more about Personal Corner, visit their website, Twitter, Discord, Medium, and Instagram.