In a recent presentation about the future of the Chainlink network, Chainlink Co-founder Sergey Nazarov detailed several key initiatives for 2022, including Chainlink's Cross-Chain Interoperability Protocol (CCIP).
He described CCIP as "another huge leap" in the evolution of hybrid smart contracts, and the tipping point that brings the speed, efficiency, and cost-effectiveness of Web2 to the development of Web3.
The Chainlink network secures the vast majority – currently more than $75 billion – of DeFi. CCIP is the application of Chainlink's highly secure consensus mechanism to cross-chain communication, enabling not only token movement but messaging between distinct blockchains.
"You will be able to generate a smart contract that is actually multiple contracts on multiple chains interoperating with each other," Nazarov explained.
He said cross-chain communication is what distinguishes CCIP as a landmark innovation in the development of Web3.
"The ability to create cross-chain contracts will allow developers and people building smart contracts to utilize multiple different pieces of code on multiple different chains just like they utilized multiple different pieces of code in multiple different clouds as web developers."
Essentially, CCIP will allow developers to select the best code for the task at hand, regardless of which chain that code resides on. This, Nazarov said, will give rise to "a much more useful format" for hybrid smart contracts: the cross-chain hybrid smart contract.
"We need to get the next million developers coming into the blockchain industry to build the way they are used to building in the web industry," he said.
Meeting this initiative means recreating the same advantages of Web2 – speed, quality, efficiency – in the world of Web3. "The ability to stitch together multiple pieces of smart contract code on multiple different chains is going to redefine how people build contracts in our industry," Nazarov said.
He put it more simply:
"You'll be able to use the chain that you want to use for what it's good at."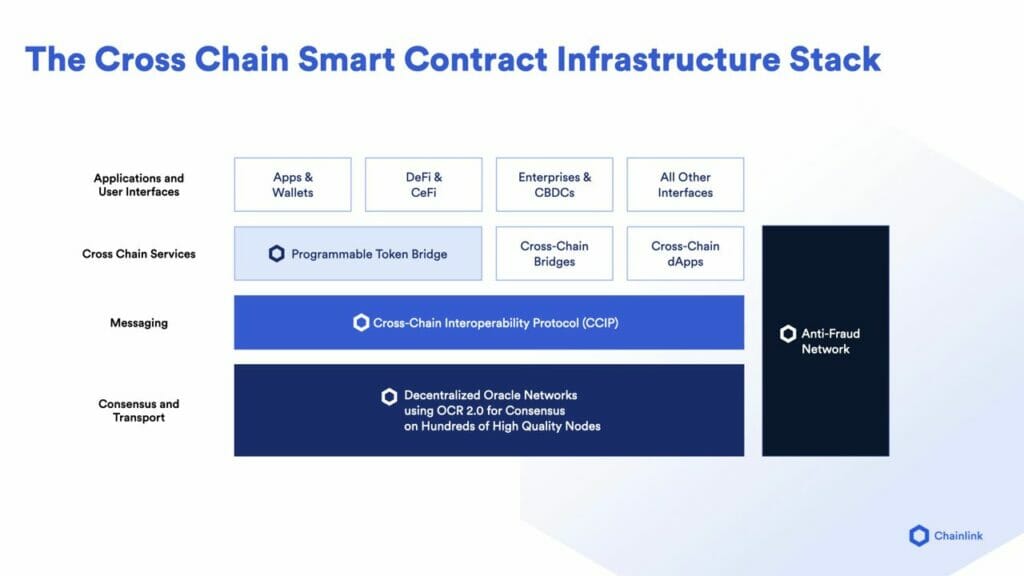 CCIP will allow developers to take advantage of one chain's security guarantees, another chain's speed and scalability guarantees, other chains for receiving value, and multiple decentralized oracle networks providing off-chain data and services like random number generation – all in one smart contract.
Nazarov said such CCIP-powered cross-chain smart contracts will be compatible with existing interfaces, wallets, and Web2 systems.
"I think this, together, will herald in an entirely new category of more advanced hybrid smart contracts," he said. "But really, that is just the beginning."
Watch Sergey Nazarov's presentation on CCIP.