At last year's Solana Breakpoint, Chainlink co-founder Sergey Nazarov and Solana Labs CEO Anatoly Yakovenko discussed their shared vision for how Solana's mainnet integration of Chainlink oracles will catalyze the next generation of hybrid smart contracts and accelerate the "seismic shift" from web2 to web3. Today, that vision came to life with the announcement that Chainlink Price Feeds are now officially live on the Solana blockchain.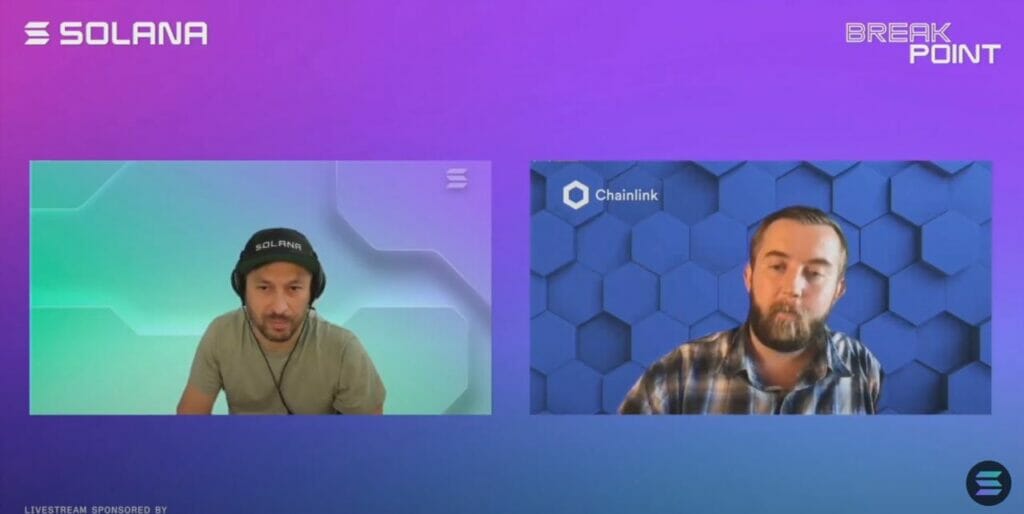 "Chainlink's native integration on Solana marks our first integration on a non-EVM chain," said Chirag Dhull, Head of Product Marketing at Chainlink Labs. "This is an important milestone on our journey of securing value across all of DeFi, regardless of where it is."
The initial mainnet integration comprises seven different Chainlink Price Feeds, including BTC/USD, ETH/USD, and USDC/USD, with mainnet integration of hundreds of additional Chainlink Price Feeds and decentralized services such as Proof of Reserve, Keepers, and VRF (Verifiable Random Function) expected over the coming months.
In an official announcement, Yakovenko said, "Chainlink's launch on Solana will give DeFi developers access to the most widely used oracles in blockchain. Solana's high-speed blockchain can deliver high frequency pricing data to dapps, enabling developers to build new DeFi dapps and products."
Chainlink's tamper-resistant, high-quality off-chain data is poised to enable advanced high-throughput DeFi applications that accelerate the growth of Solana's ecosystem and the DeFi industry as a whole. Since Chainlink Price Feeds went live on Solana Devnet last August, popular Solana DeFi projects, including Francium, Apricot Finance, and Tulip Protocol, announced their intent to integrate Chainlink oracles on mainnet.
Last November, Tulip, Solana's premier leveraged yield farming platform, announced its plan to integrate Chainlink Price Feeds in order to secure leveraged yield farm positions. Tulip co-founder Senx told Chainlink Today that Chainlink Price Feeds will make Tulip's liquidation mechanism more robust and ultimately help protect lenders from becoming insolvent and borrowers from facing faulty liquidations.
Chainlink is the blockchain industry-standard decentralized oracle provider, with over 980 bespoke oracle networks securing tens of billions of dollars in smart contracts on more than a dozen distinct blockchains. Solana is engineered to be the world's most performant blockchain with unique architecture that reduces the cost and latency of information transmission to maximize information symmetry around the world.
In conversation with Nazarov at Breakpoint, Yakovenko said the combination of Chainlink's oracles and Solana's blockchain will give rise to web3 applications with the same performance, throughput, and cost efficiency that web2 users expect. Yakovenko and Nazarov agreed that the synergy created by Chainlink and Solana has the potential to convert hundreds of millions of new users to DeFi.
"Between the status quo going sideways and there being a better alternative – I think those two things together do convert those couple hundred million people into even the most basic use case," Nazarov said.