In an interview with CNBC's Amanda Drury last month, Chainlink co-founder Sergey Nazarov indicated a growing number of traditional financial institutions and decentralized exchanges that are working to adopt Chainlink's Proof of Reserve (PoR) as a new minimum standard for transparency.
He explained how PoR could prevent crises like last year's FTX collapse by allowing institutions to provide real-time cryptographic proof about the size and composition of their balance sheets.
"So what will happen from FTX is that everyone will adopt Proof of Reserve, and then when people look into the blockchain industry, they'll see a more transparent, more hardened alternative financial system," Nazarov said.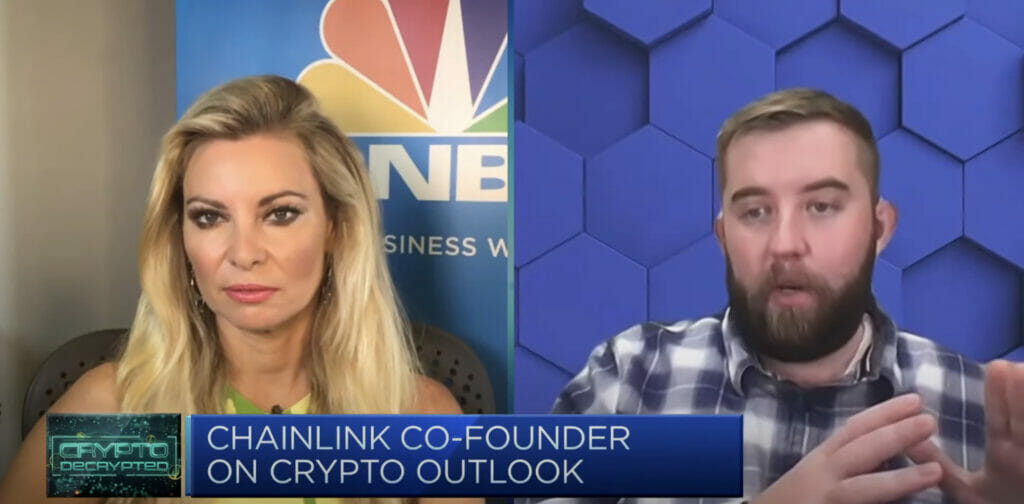 PoR uses the blockchain industry-standard decentralized oracle network, which has facilitated over $7 trillion in transaction value throughout decentralized finance (DeFi), to verify that on-chain assets are fully collateralized by off-chain "real-world" assets such as the U.S. dollar (USD).
Today, TrueUSD (TUSD) announced that it will become the first USD-backed stablecoin to programmatically control minting with Chainlink Proof of Reserve. PoR will enable automatic verification of USD reserves to ensure sufficient collateralization before minting new TUSD.
Reserve data for TUSD is aggregated by independent, industry-specialized U.S. accounting firm, The Network Firm LLP (TNF). TNF aggregates all reserves data for USD held at financial institutions in real-time and delivers that information on-chain via Chainlink for use by the TUSD smart contract.

In an official statement, Ryan Christensen, CEO of Archblock (the issuer of TUSD, formerly known as TrustToken) said integrating Chainlink PoR boosts the reliability of TUSD as a form of payment and collateral throughout the DeFi ecosystem.
"We're excited to be using Chainlink Proof of Reserve to enhance the transparency and verifiability of our stablecoin," he said. "As the industry-standard decentralized oracle network, Chainlink helps ensure that TUSD is always collateralized by off-chain fiat reserves, furthering TUSD's commitment to trust and transparency."
TUSD is deployed on 11 mainstream public blockchains and is available on 70+ cryptocurrency exchanges across 160+ markets as well as 20+ OTC desks across five continents. Users can access TUSD's public audit results via its official website at any time.
Sergey Nazarov said TUSD's integration of PoR is an important milestone for stablecoins as well as the entire DeFi sphere.
"We are proud to support TUSD in its efforts to bring new layers of transparency, risk management, and security to its stablecoin minting process," he said. "With Chainlink Proof of Reserve, TUSD is able to provide greater levels of assurance and confidence to its users, and help bring greater stability to stablecoins and the broader crypto industry."
To learn more about TrueUSD, visit their website, Twitter, Medium, Discord, and Telegram.