Many artists and fans believe collaboration is an essential part of the artistic process. Often, collaboration stems from chance or serendipity. Think of a song whose concert recording you prefer to the polished studio track. The opportunity to not only experience but help create this kind of alchemy is why people love going to live shows; each crowd cultivates its own unique medium through which the old sound becomes new.
This phenomenon applies to virtually all genres. Today, blockchain technology is unlocking new ways to create, mint, own and distribute royalties for collaborative art through dynamic NFTs. Projects like Strata are bridging the gap between physical and digital art by allowing artists like acclaimed painter Héctor Falcón to co-create verifiably unique NFTs with their fans.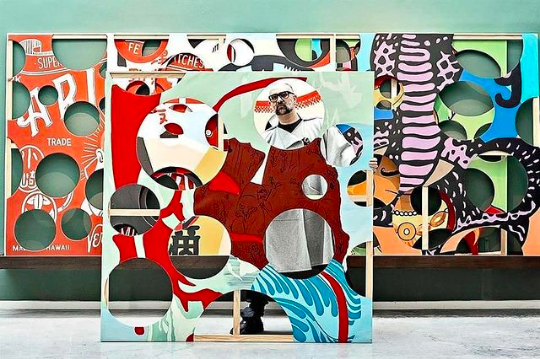 Strata co-founder Jasper Degens has a background that's extremely well-suited to navigating the burgeoning NFT space. A computer scientist with experience working on royalty distribution for a financial software company as well as creating large-scale, interactive installations for an international art collective, Degens is interested in how NFTs facilitate new art experiences and new ways to own those experiences.
At SmartCon #1, Degens presented "Interactive Artistic Thinking in the Blockchain Space," sharing current and future use cases plus a live demo showing how technologies like Chainlink VRF allow artists to reimagine their work.
How can blockchain enhance art?
Blockchain allows artists to design novel interactive projects that simply couldn't be accomplished any other way. NFTs merge experience with ownership by functioning as gatekeepers that permit token holders to participate in collaborative canvases. Artists can retain as much or as little control as they wish by setting parameters for audience participation.
This model has near-infinite applications in the digital art world, but Degens highlighted how it can also enhance real-life audiovisual events. He shared a short, SmartCon-themed demo showing how artists might design such systems and how NFTs can be minted and distributed as a collective artwork evolves.
"That allows people to own some of that experience," he said.
Why does this matter to fans?
Degens highlighted some of the ways NFTs could extend value before, during and after such events. For example, an audience member who owns an exclusive collaborative NFT might be entitled to discounts on future events.
The goal of this technology is not only to create long-lasting value but also to develop a deep sense of community that comes from contributing to an artist's final output. It's mind-bending to think about what's on the horizon. Remember that live recording of your favorite song and imagine what it would be like if NFTs allowed audience members to be recognized as co-creators of their favorite band's best work.
To learn more about Strata, visit their website, Twitter, Medium and Telegram.
Watch Jasper Degens' full presentation at SmartCon #1.
Explore other presentations from Smart Contract Summit #1's playlist.