Chainlink, web3's leading decentralized oracle network, today announced a long-awaited milestone: the beta launch of an early framework for staking its native token. As a community-driven cryptoeconomic security mechanism, staking allows members of the Chainlink ecosystem to commit tokens in smart contracts to back certain performance guarantees of Chainlink's oracle services.
As the top provider of decentralized infrastructure connecting blockchains to off-chain data and computation, Chainlink secures tens of billions of dollars in smart contracts across an ecosystem of more than 1,600 projects utilizing more than 1,000 bespoke oracle networks.
During his keynote speech at Chainlink's annual SmartCon event in September, Chainlink co-founder Sergey Nazarov said the network's cumulative Transaction Value Enabled (TVE) – on track to surpass $7 trillion by the end of 2022 – necessitates staking as part of Chainlink Economics 2.0, a new economic framework that allows the Chainlink Network to continue to securely scale.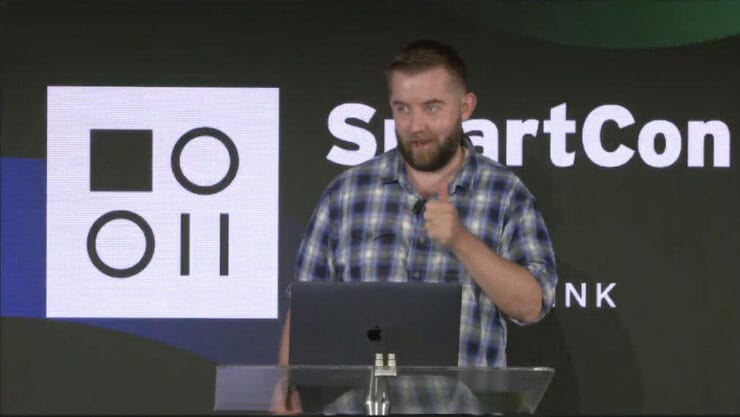 According to Chainlink's Staking Roadmap, the long-term goal of staking is to foster a multi-chain smart contract economy that supports "multi-trillion-dollar markets across major global industries." Successive models of staking will be refined by in-production results and user feedback, with the initial v0.1 release intended to create "a simple and secure foundation" through a basic reputation framework and staker alerting system.
A Chainlink Labs rep told Chainlink Today that the launch of Chainlink Staking marks an important moment for Chainlink community members by giving them the opportunity to directly participate in the success of the Chainlink Network.
"The more LINK that's staked, the more that Chainlink oracles are incentivized to generate accurate oracle reports through a system of rewards and penalties," the rep explained.
"v0.1 specifically is a foundational piece of the puzzle that will set the stage for future iterations and enable core components to mature in production so they can more safely be expanded upon in future versions."
Because Chainlink is responsible for securely enabling trillions of dollars in transaction value across the blockchain economy, he said Chainlink Staking will evolve using the same risk-averse model that all new Chainlink services have historically followed:
"When Chainlink was first launched on Mainnet in 2019, there was a targeted scope servicing a single feed. Once the system was battle-tested, additional feeds and chains were added. Staking will follow this same model and launch first on the ETH/USD feed on Ethereum. As the new system becomes battle-tested, it will be expanded to additional feeds and services."
Initially, the Chainlink Staking pool will consist of two types of stakers: node operator stakers and community stakers. Staking opens to node operators that are actively serving Chainlink Data Feeds and qualifying addresses on December 6, with general access opening December 8.
According to the Chainlink Foundation's official announcement, "The launch of Chainlink Staking v0.1 serves as an inflection point for both the Chainlink Network's security and its economic design." Nazarov personally emphasized staking's global significance during an interview on The Crypto Conversation back in May, when he praised Chainlink's "slow, methodical" approach to building the highest model of cryptoeconomic security:
"I want to take this opportunity to express my deep and genuine gratitude to everybody that understands what we're doing and sees that it's about much more than whatever may be happening in the larger global macroeconomy in the short term. That it's really about creating a different world than the one we're in now."
Learn more about Chainlink Economics 2.0, view Chainlink's Staking Roadmap, and check your eligibility for Chainlink Staking v0.1 early access.